International Women's Day Dinner a great success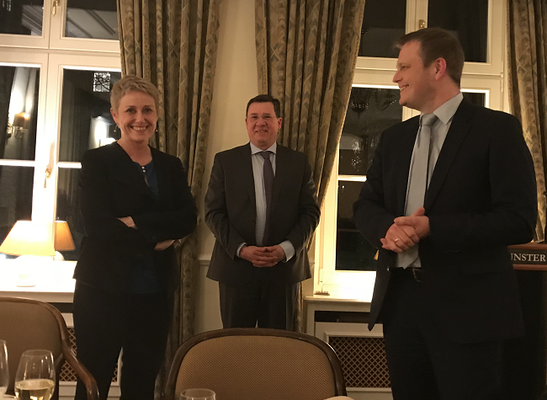 LRBC members and guests gathered on the 8th of March to celebrate the International Women's Day. The guest speaker was Ms. Sasha Baillie who talked about women's role in economy.
On the 08th of March, Luxembourg-Russia Business Chamber celebrated the International Women's Day by its traditional festive dinner at Cercle Münster in Luxembourg-City. The private set-up in a cozy atmosphere, surrounded by the pittoresque scene of Grund, sandstone rocks and fortress walls, attracted some 40 members, friends and guests of LRBC to spend a relaxed evening.
We were honoured to have Ms. Sasha Baillie with us as Guest Speaker. Just to mention a few points of Ms Baillie's career, she served as diplomat in Luxembourg's Embassy at Moscow for some years and is today leading the nation branding campaign of the Grand-Duchy and a row of special development projects in the Ministry of Economy, including such related to gender equality.
Ms. Sasha Bailie delivered to us a very committed speech titled "The Economic Rationale for Gender Equality – An issue for the Luxembourg economy" addressing several aspects of this matter in Luxembourg and the economic context. Specific reference was made to current projects promoting gender equality, such as www.equilibre.lu or My Pledge (#NoWomenNoPanel). Ms Baillie's dedication provoked a row of interesting questions which led to lively discussions over a fine dinner.
Many thanks to Ms Baillie and all and everybody who made this event interesting and colorful by their contributions to the organization, gifts, or just by their presence!
Please feel encouraged to look up www.lrbc.lu for more events to come.
Back
Pictures