BRIC EVENT 2019 - BRIC AND LUXBEMBOURG – MANUFACTURING PARTNERSHIP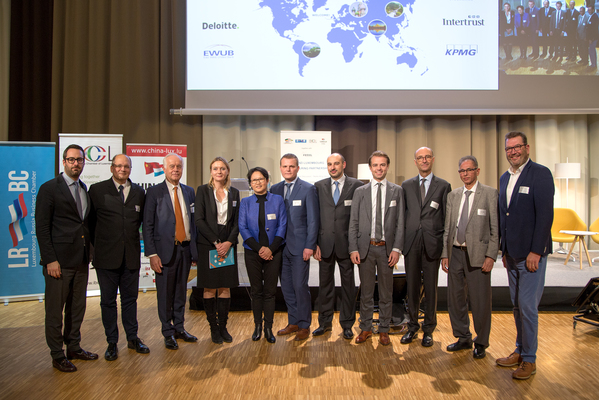 BRIC and Luxembourg: Manufacturing Partnership
On 13th November 2019, the BRIC Event 2019 was held in partnership by the Luxembourg Brazil Business Council (LBBC), the Luxembourg-Russia Business Chamber (LRBC), the Indian Business Chamber of Luxembourg (IBCL) and the China-Luxembourg Chamber of Commerce (CHINALUX), together with FEDIL. It was the fourth time the four chambers have come together for such an event, on this occasion to explore the advantages of Luxembourg for BRIC countries for manufacturing.
Hosted by Olga Huizinga, LRBC board member and Director, Deloitte Luxembourg, the event commenced with words of welcome from the chamber presidents.
LBBC president, Laertes Boechat, emphasised the importance of Luxembourg as a stable platform for financial services. He noted the BRIC countries industrial systems may benefit enormously from the financial capabilities of the Luxembourg Stock Exchange and the low interest rates of Luxembourg to raise capital for industrial companies.
LRBC president, Anton Baturin, mentioned Russia and Luxembourg have quite a long and, more importantly, successful history of manufacturing partnerships and cooperation, in particular in the production and trade of plastics, rubber, machinery and industrial equipment, metals and minerals. He added 'business diplomacy' plays an essential role in overcoming often artificially created barriers and we will see even more opportunities for business between Russia and Luxembourg in the years to come.
IBCL president, Sudhir Kumar Kohli gave an overview of how both India and Luxembourg / EU have benefitted immensely from their mutual partnership in manufacturing business and going forward, the different avenues where it will be of advantages for them to collaborate in the future.
CHINALUX president, Zhujun Xie, highlighted the growing links between China and Luxembourg for manufacturing, which she noted was particularly evident during the recent trade mission to China, which included visits to Shanghai, Zhengzhou and Nanjing.
Following, Charles-Louis Ackermann, Vice-President of FEDIL and Chairman of the Board of ACCUMALUX Group, addressed the topic of Luxembourg and BRIC manufacturing cooperation, noting Luxembourg's industry looks back to a long history of active trading partnerships with members of the BRIC states, starting with steelmaker ARBED's Companhia Siderúrgica Belgo-Mineira in Brazil, later on ArcelorMittal, as well as companies like PAUL-WURTH, IEE - today under Chinese leadership -, CERATIZIT, CEBI, ROTAREX, ACCUMALUX or AMER-SIL, and others that by now have roots with or in a BRIC state. He mentioned in proportion to other countries, it appears links between Luxembourg and the BRIC countries are impressively high.
Next, Michel Wurth, Chairman ArcelorMittal Luxembourg, delivered a detailed and engaging account of Luxembourg's contribution to the manufacturing industry, making connections between his company – headquartered in Luxembourg – with the BRIC countries. Most importantly, he called on leaders from the business community to strive for intellectual property rights, eliminate corruption and encourage competition, fair trade and reduced government intervention.
Jean-Paul Olinger, Director, Union des Entreprises Luxembourgeoise (UEL) – the umbrella organisation of the Luxembourg business community – then led a panel discussion with representatives engaging in the manufacturing sector via Luxembourg and one or more of the BRIC countries.
During the discussions, Raymond Ackermann, Sales and Purchasing Director and Deputy Manager, Accumalux Group, addressed his views on Luxembourg as a manufacturing location, highlighting the company's history of production in Luxembourg and in Russia since 2014. He noted the company delivers to the BRIC countries and he has personally visited all four of the countries this year.
Stefan Grengs, Director, Manufacturing and Supply Chain Management of IEE Group, illustrated another success story of manufacturing in Luxembourg, noting IEE started operations in Echternach 30 years ago and is now a global player for sensing solutions and electronics manufacturing services. He added the company's engagement in China has evolved to be a strategic relationship for market production and research and development.
Taking the focus to corporate administration services, Joel Cardenas, Business unit director, Intertrust, spoke of how Luxembourg acts as bridge between manufacturing and finance due to its role as an international finance and holding location. He emphasised Luxembourg is attractive to businesses from abroad, including manufacturing companies, for example, for their structuring and to source financing.
Presenting a newer company active in the very promising fields of waste and energy, Heike Zatterstrom, Chief Communication Officer, Boson Energy SA, outlined how Boson distribute small-scale technologies to waste areas in order to significantly reduce the footprint of transport and land usage. Referring to their engagement in India, he called for Luxembourg to leverage its skills in manufacturing to be utilised in other locations.
Looking ahead, the panel addressed the opportunities and challenges in Luxembourg and the BRIC countries for manufacturing. The discussions covered numerous topics, such as market sizes, production standards, intellectual property, environmental issues, research and development, perceptions of industrial development, political stability and the importance of diplomatic engagement and support.
After the formal proceedings, guests were treated to a networking dinner with cuisines from the BRIC countries.
teaser
short summary movie
full movie

publications
Luxtimes article: https://luxtimes.lu/economics/39023-luxembourg-industry-eyes-brics-countries-for-growth
Back
Pictures